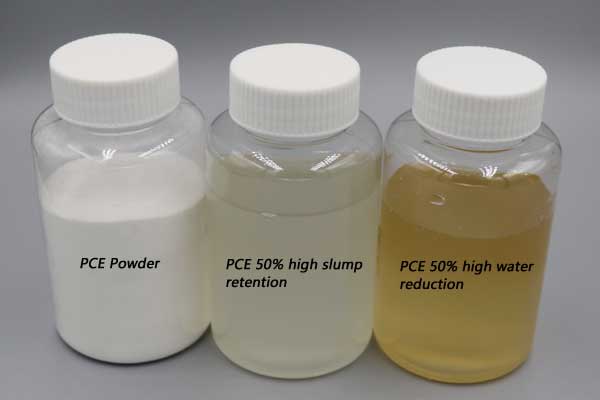 Polycarboxylate Superplasticizer Powder & Liquid
CAS NO.: 27599-56-0
HS Code: 38244010
Appearance: Solid & Liquid
Water reducing rate: ≥25%
Package: PCE liquid is 230kg PE drum, 1100kg IBC tank or flexitank. PCE Powder, 25 kg PP woven bag.
Excellent performance: Polycarboxylate based superplasticizer is currently a high-efficiency water reducing agent with the highest scientific and technological content, the best application prospects, and the best comprehensive performance. PCE chemical is also a series of water reducing agents with excellent performance that integrates water reduction, slump retention, reinforcement, anti-shrinkage and environmental protection. It can completely solve the weakness of high-strength, high-performance concrete with the performance of high viscosity and poor construction performance.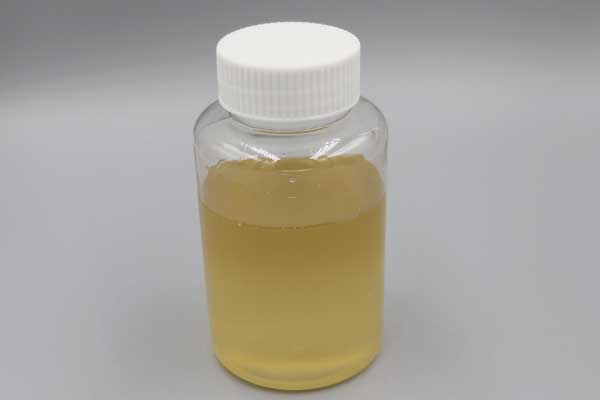 Polycarboxylate Superplasticizer Specification
Items
Standard
PCE(High Water Reduction)
PCE(High Slump Retention )
PCE-Powder
Appearance
Light Yellow Liquid
Clear Transparent Liquid
White Powder
Solid Content, %
50±1.0
50±1.0
98±1.0
Density (23℃) (kg/m3)
1.13±0.02
1.05-1.10
600±50
PH
6.5-8.5
6.5-8.5
9.0±1.0
Chloride Content(by solid content), % ≤
0.1
0.1
0.1
Na2SO4 (by solid content), % ≤
4.0
4.0
4.0
Na2O+0.658K2O ( by solid content), % ≤
5.0
5.0
5.0
Formaldehyde content (by solid content),% ≤
0.001
0.001
0.001
Solubility
Completely Soluble
Completely Soluble
Completely Soluble
Would like The Quotation?
Leave your demands in detail here(including the model, package, brand, quantity), we will reply you quickly. 
Whate Are the Excellent Performance of Polycarboxylate Concrete Admixture
Low dosage, high water reduction rate, small shrinkage.
High water reduction rate. The water reduction rate can reach more than 25%. It can improve the fluidity of the concrete while adding the same amount of water.
High slump retention. Compared to traditional polycarboxylic acid powder water-reducing agents, the polycarboxylate superplasticizer for sale in Chemate is produced by a special process. So that the carboxylic acid groups aren't destroyed during the powder manufacturing process, thereby retaining the slump retention of the original liquid mother liquor.
Good solubility and fast dissolution rate. Because of its uniform particles and large specific surface area, it can quickly dissolve in the water dissolution process. And there are no obvious impurities after dissolution.
Early strength and high strength. It can increase the early concrete strength by more than 50%. And increase the 28-day strength by more than 30%. So it is mainly suitable for high-volume fly ash concrete.
Concrete has good workability. Even in the case of high slump, the concrete prepared with polycarboxylic acid superplasticizer won't have obvious segregation and bleeding. And the appearance of the concrete is consistent in color. The concrete mixed with PCE chemical has good durability. It is superior to ordinary water reducing agents in terms of filling, stability, pumpability, strength and compactness, sulfate corrosion resistance, alkali resistance, aggregate reactivity, frost resistance, shrinkage resistance and creep resistance.
Good compatibility with different types of cement and admixtures.
Good stability. There is no precipitation at low temperature.
Green and environmentally friendly products. The alkali content, chloride ion content, sodium sulfate content, and formaldehyde content are all very low. So there is no pollution to the natural environment during the production process.
The use of polycarboxylate water-reducing agents can replace cement with more slag or fly ash, thereby reducing costs.
Would like The Quotation?
Leave your demands in detail here(including the model, package, brand, quantity), we will reply you quickly. 
Know More About Polycarboxylate Superplasticizer PCE
why Choose Our Company - Reliable Polycarboxylate Superplasticizer Supplier?
More than 15 years of export experience. We can make the business become professional & simple & easy.
Quality guaranteed. ISO/BV/SGS can ensure the qualified products and traceability.
Excellent Service. Our sales Managers can customize the order for your specific market..
Timely Response. All the feedback from customers will be treated seriously and promptly. Purchase high-performance superplasticizer from our company. Inquiry us for the best polycarboxylate superplasticizer price now.