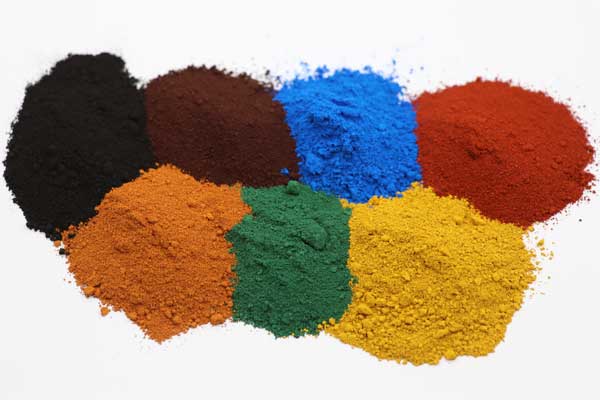 What Is Iron Oxide Pigment
CAS NO.: 1309-37-1
HS Code: 28211000
MF: Fe2O3
Color: Red, Black, Brown, Yellow, Green, Orange, Blue
Iron oxide pigment is the second largest inorganic pigment after titanium dioxide and the first largest colored inorganic pigment. It mainly ccontains red iron oxide, yellow iron oxide, black iron oxide and brown iron oxide pigment with iron oxide as the basic substance. In addition, of all the iron oxide pigment consumed, more than 70% are prepared by chemical synthesis methods, called synthetic iron oxide, such as, green iron oxide, etc… We can supply iron oxide pigments in a variety of colors. Browse the below products to look for the pigments you need and contact us if you need help. We will help you choose the right iron oxide pigments for your unique requirements. 
High coloring power and high hiding power.
Excellent light resistance, weather resistance.
High temperature resistance, Strong coloring force.
Would like The Quotation?
Leave your demands in detail here(including the model, package, brand, quantity), we will reply you quickly. 
Iron oxide pigments with different colors can be added in concrete to make it more attractive, improve its performance ate the same time. Choose the color you need and contact for details now. 
Iron oxide pigments are widely used in coatings, paints and inks because they are non-toxic, non-bleeding, low cost, and can form a variety of different tones. Get the best price now.
In addition to make the colors of plastic and rubber more beautiful, iron oxide pigments for plastic and rubber plays a great role in preventing rubber and plastic from aging.
Would like The Quotation?
Leave your demands in detail here(including the model, package, brand, quantity), we will reply you quickly. 
Know More About Iron Oxide Powder
As inorganic pigment, it is used for coloring of paint, rubber, plastic, construction, etc… Used as anti-rust pigment in coating industry. Used as colorant for artificial marble, ground terrazzo, colorant and filler for plastic, asbestos, artificial leather, leather polish, etc. It is also polishing agent for precision instruments, optical glass, and raw materials for manufacturing ferrite components of magnetic materials, etc…
As the magnetic raw materials, it can be used in the electronics industry, communication equipment, televisions, computers, as well as line output transformer, switching power supply and ferrite magnetic core.
Used in analytical reagents, catalysts and polishing agents, also used as a pigment ingredient.
Used for coloring the outer sugar coating of various pills.
Used as magnetic material, pigment and preparation of reducing agent, polishing agent, catalyst, etc…
Used as a pigment for anti-paint. Because the mica iron oxide anti-rust made by this product has good water permeability resistance and excellent anti-rust performance, it can replace red lead.
Synthetic iron oxide has the characteristics of high purity, uniform and tidy particle size, and wide chromatography. Meanwhile, varieties of colors, low price, non-toxic, as well as excellent coloring are also reasons why it has wide applications. In addition, it has the ability to absorb ultraviolet rays. All the excellent performances make it widely used in construction materials, coatings, plastics, electronics, medicine, rubber, ceramics, inks, magnetic materials, paper making and other fields.
As the man-made pigments from natural elements, iron oxide pigment has much stronger tinting strength and hiding power. Meanwhile, it also has excellent light resistance and weather resistance. As a result, it is the only colorant that can withstand the extreme alkaline environment of concrete without fading or leaching. So they are an excellent choice for concrete and stucco.
Iron oxide particles used in the construction industry are 10 times finer than cement particles. When adding it to concrete mixture, the iron oxide pigment particles actually surround and cover the cement particles, thereby achieving the purpose of coloring.
However, not all iron oxides have the same coloring power. Different production processes will not only affect the color strength, but also dilute or reduce the tinting intensity of pigments when adding inert filler in mixed color. In order to ensure strong coloring power of iron oxide powed, you'd better know about the production processes.
Iron oxide pigment has characteristics of non-toxic, non-bleeding, low cost. In addition, it has the ability to form a variety of different shades.  So it is widely used in coatings, paints and inks.
Iron oxide pigments are suitable for coloring of various coatings, including water-based paints, powder coatings.
Used in paints including epoxy resin, alkyd, amino and various primers and paints, as well as toy paint, decorative paint, furniture paint, electrophoretic paint and enamel.
In addition, red iron oxide primer has the function of anti-rust, which can replace expensive red lead paint, saving non-ferrous metals.
What Are Properties And Advantages of Iron Oxide Pigment
High chemical stability and physical endurance.
Alkali resistance. It is very stable to any concentration of alkalis and other types of alkaline materials, especially cement and lime mortar commonly used in construction, and won't powder or affect the strength of cement building components.
Acid resistance. It has certain resistance to general weak acids and dilute acids, but it can also dissolve in strong acids, especially when heated and concentrated.
Light fastness. Color invariable under intense sunlight exposure.
Heat resistance. It is stable within a certain temperature limit, and the color will start to change beyond its temperature limit. As the temperature increases, the degree of change will become more and more significant.
Weather resistance. It isn't affected by climatic conditions, such as, cold, hot, dry and wet atmosphere.
Dirty air resistance. It is very stable in any dirty gas, such as, hydrogen sulfide, carbon oxide, sulfur oxide, hydrogen chloride, nitrogen oxide and other gases.
Water, oil, solvent resistance permeability. Insoluble in water, various mineral oils, vegetable oils and ethers, esters, ketones and other organic solvents, and no penetration.
Bright and clear color and unique hue. The color of iron oxide pigments is very clear and pure, and it doesn't need to be embellished with other organic or inorganic pigments.
Excellent economic effect. The iron oxide pigment has a high coloring power, fine and uniform particle size, which ensures its use value, coupled with a lower selling price, which can ensure the economic effect of the users.
Production Process of Iron Oxide
The production methods of iron oxide are mainly divided into dry method and wet method. Dry method mainly includes the calcination method of green alum, the calcination method of iron yellow, the calcination method of iron black, as well as natural iron oxide mineral ultrafine crushing method using hematite as raw material. Wet process mainly includes sulfate method, nitrate method and mixed acid method. According to the different neutralizer used in the two-step oxidation process, it can also be divided into iron sheet method and ammonia method.
Advantages. The production process is simple. Technological process is short. Equipment investment is relatively small.
Disadvantages. Quality is a little poor. It will produce harmful gases in the calcination process, which has a significant impact on the environment. For example, it will produce a large amount of sulfur-containing gas during the calcination process of iron alum. In recent years, based on the comprehensive utilization of iron-containing wastes, dry processes such as sulfuric acid cinder method, iron ore powder acidification roasting method have appeared. These methods are simple in technology and low in investment, but the quality of products is low. So they are only suitable for use in low-end fields.
Where to Buy Iron Oxide Powder
Chemate Technology Co.,Ltd is one of the world professional iron oxide powder manufactures and suppliers, we have been engaged in the production and export of pigment chemical products for over 15 years. Now we have formed a complete system integrating R&D, production, sales and export. As a reliable supplier, we can assure our customers.